GROUPM(WPP) PARTNERS WITH ADOMIK FOR EVEN MORE TRANSPARENCY IN ITS REPORTING ACTIVITIES
GroupM (WPP) – the world's leading advertising investment company is partnering with Adomik – the leading AdTech software developer and provider of smart advertising analytics for publishers. The latter has released support for the reporting activities of GroupM's (WPP) publishers and agencies.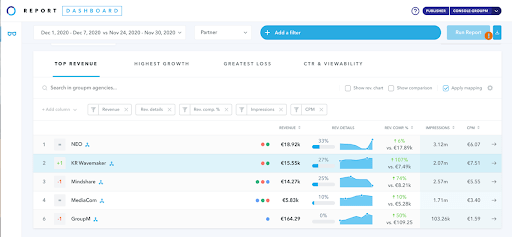 Thanks to this collaboration, GroupM's Programmatic Department (PBU-Programmatic Business Unit) has direct access to its programmatic investments made with market-leading publishers, such asUnify, Media.Figaro, Le Bon Coin, Le Point, Prisma Media, 366, and Webedia, regardless of the mode of purchase – auctions or fixed prices.
Indeed, the major difficulty of the programmatic ecosystem lies in the traceability of the financial flows of an advertising campaign from end-to-end, and therefore, in the reconciliation between the expenses of the advertiser and the revenues of the publisher (even with several DSPs and several SSPs involved)
CONTINUE READING THE FULL CASE STUDY BELOW!