Capitalizing on the Programmatic Deal Boom
The Full Market Data behind Adomik's speaking session at Admonsters, is now Available!
Download it now, and read about Programmatic deal trends in the US, Quarter 1 2021 versus Quarter 4 2020 comparison per media type, verticals and Brands advertising.
Did you miss Adomik' live speaking session at AdMonsters Virtual Publisher Forum? Just watch the replay here.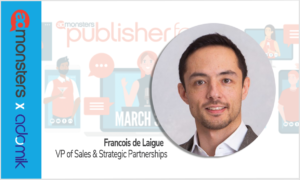 Learn more about Deal trends in the US, And the Three Laws presented by Adomik's very own, VP of Sales & Strategic Partnerships North America, Francois de Laigue.