A "deal-heavy" future for Publishers
Over the years, deals have become a key part of publishers' monetization strategies. Today, publishers use deals to sell their most valuable inventory and strengthen their relationship with demand. We expect this trend to increase in the future with the ever-growing focus on user privacy and first-party data, along with the need to better understand and work closely with demand.
Adomik is fully committed to supporting publishers in growing their deal businesses and getting ready for a "deal-heavy" future. This means releasing brand new features such as our Deal app and Benchmark sales opportunities, but also working on the little things that streamline publishers' organizations and make them smarter on deal management, eventually allowing them to increase their revenue.
After a few months of working hard on deal management features, we are happy to share with you a quick recap of all the "little things" that we have released since September… and the ones we are planning to make available in the coming weeks!
Report
Here is a recap of the releases available in your Report App. Connect to the Adomik Platform to check them out!
– Rationalized "transaction" dimensions in the Top menu and Ecosystems to provide a quick view on how you sell your inventory: Sales Channels/Transaction Types/Deals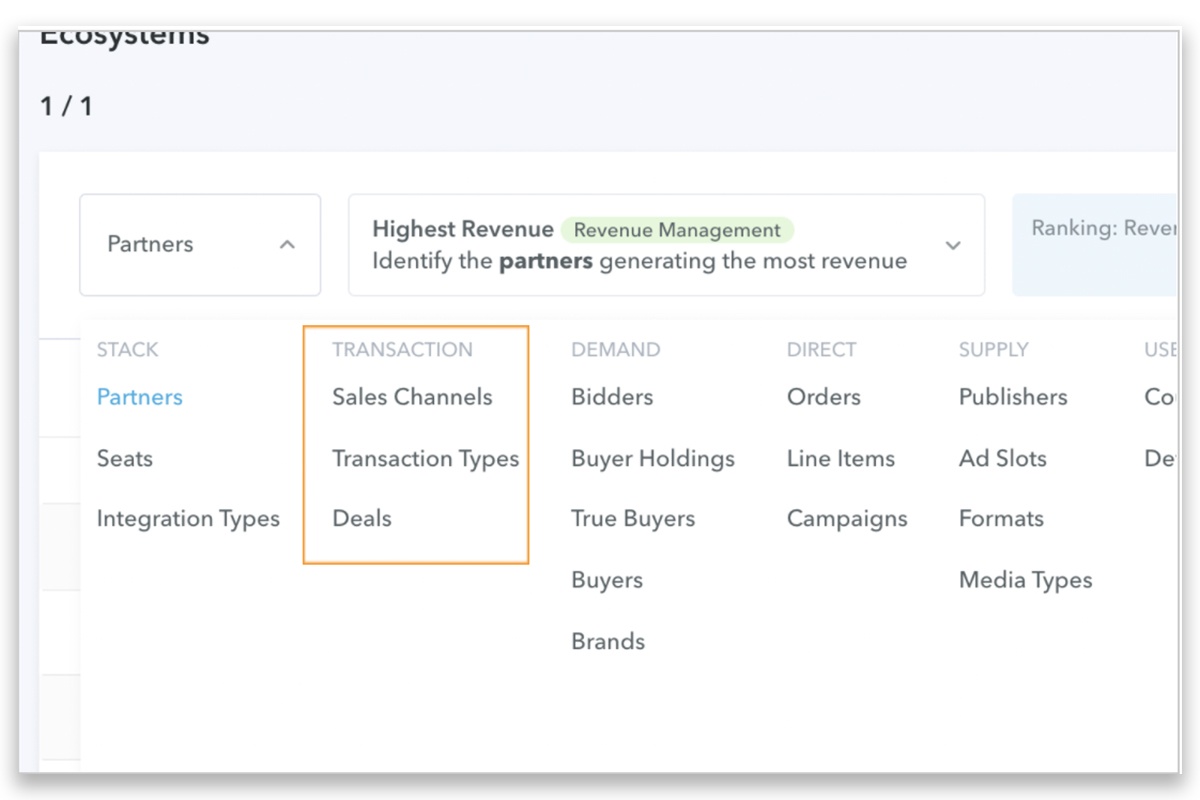 – More accurate Transaction Types to better reflect all the nuances of deals: until now, within Transaction Types, the Deal category was including multiple types of deals for different SSPs.The new classifications is more accurate and will help you better monitor how you leverage all types of deals.
What's new 🆕 : 
Renaming of the "Deal" category as "Private Auction Deal" and emphasis on the fact that the category only displays "basic" deals
– Comprehensive list of deals under the "Deal" dimension, with the addition of all GAM – DFP Deals alongside all deals from other SSPs. The GAM-DFP deals remain also available under the "Line item" dimension.
– Depreciation of the "Deal type" dimension since "Transaction type" has become much more accurate and granular.
Benchmark
Here is a recap of the releases available in your Benchmark App. Connect to the Adomik Platform to check them out!
– More accurate Transaction Types, similar to Report, to provide a better comparison of each type of deal.
You can now compare to the market more accurately on Programmatic Guaranteed deals, Prefered deals or Curated Marketplaces.

– The addition of True Buyers, Top Performer Revenue, and Top Performer CPM in Sales Opportunities to better identify the actual buyer behind a Deal opportunity (only live in selected markets) and share actionable insights on how the best Publishers on the market are performing.

Deal
Here is a recap of the releases available in your Deal App. Connect to the Adomik Platform to check them out!
– New "Deal compliant" connectors added to the list, to capture all your deal data in Deal, including FreeWheel MRM, Index Exchange, AdSwizz, and SmartClip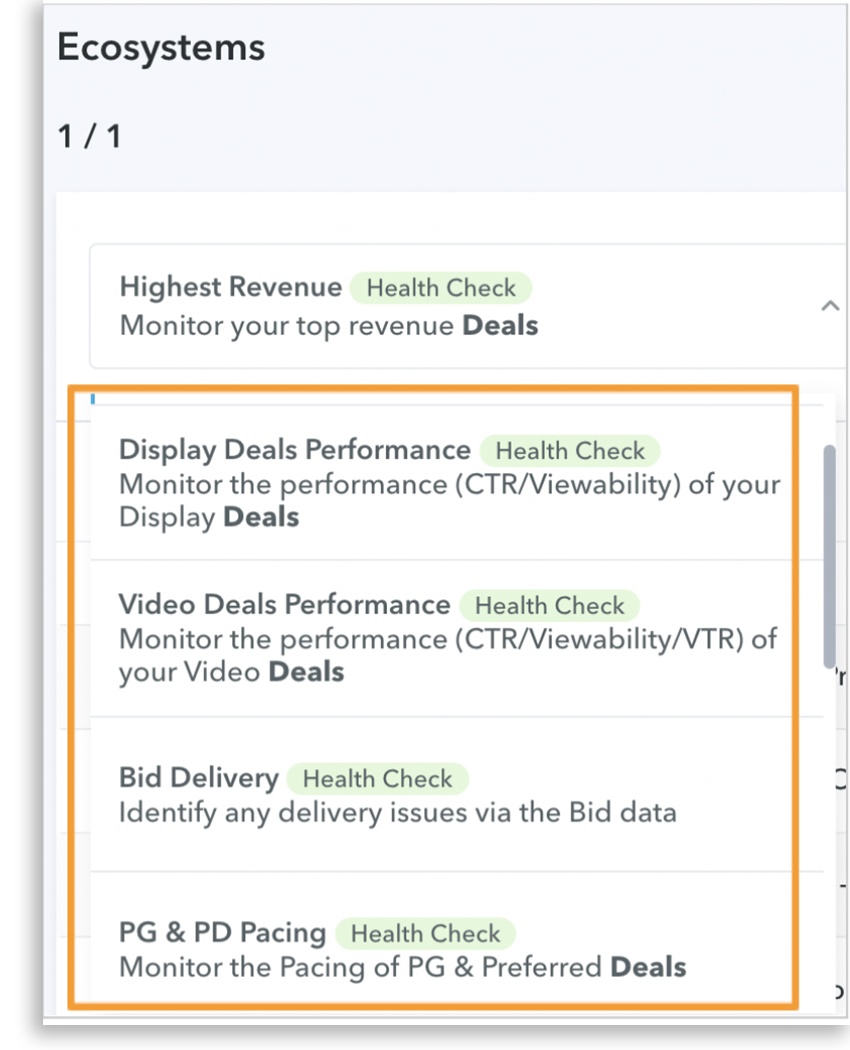 – Ecosystem views to access in one click all details about your deal performance, pacing and bidding activity, and more easily monitor all the deal delivery details that matter.
– "Launch in Report" feature to access additional delivery insights on deals in Report in one click. While the Deal App gives you access to key setup (Buyer, flight dates, transaction types, etc…) and delivery (revenue trend, performance metrics, bid data, etc.) details about each of you Deal, you can complement your deal analysis in Report to learn about the environment where the deal is displayed (Device, Publishers, Formats) or the associated brands.

– Simplified Status and Transaction Types classification across all SSPs; Transaction Types are similar to Report

– More accurate viewability data and CTR for Criteo and PubMatic:
– Customizable deal alerts to Identify all deals that require immediate troubleshooting action. Customize your alert settings to make them consistent with your business requirement and get access to an easy-to-read daily feed.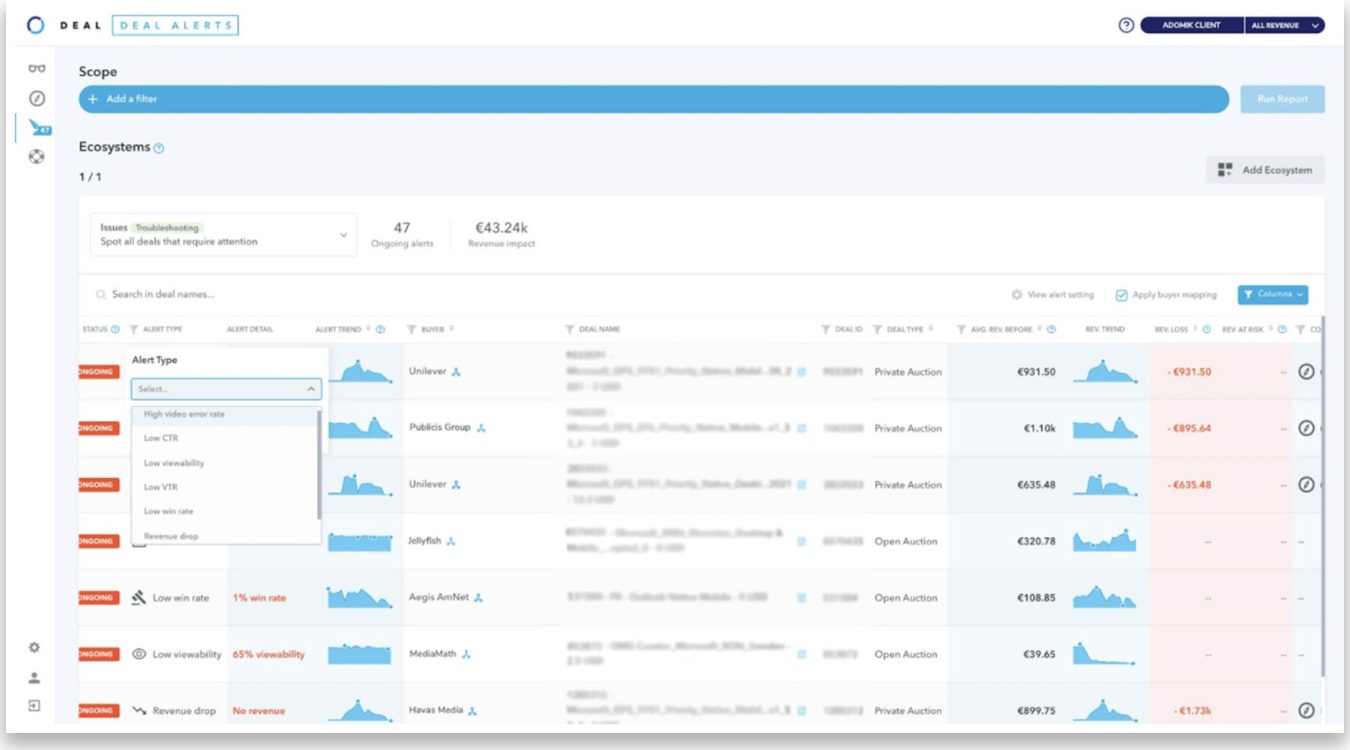 – Faster App: the Deal app has been optimized for to load faster.
– New "All deal data" ecosystem view to let you build your deal monitoring table the exact way you want: simply select the columns that you want to display from a vast array of choice, then save your dashboard, set this new dashboard as your default dashboard… and your custom page will become your default view for deal monitoring!
Adomik will keep on working on the deal management use cases in the future.
Below is a glimpse of what we plan to launch in the coming weeks and months.
Deal (Upcoming changes)
Graphical design improvements: creation of charts on Revenue Impact and Number of ongoing alerts to know on what day to focus on, plus display of a gauge for Pacing % insights
Addition of bid metrics for PG and Preferred Deals on GAM-DFP

Enhanced

market comparisons in Deal alerts: activation for CTR, viewability and VTR alerts, market average value displayed for more simple analyses, color code to highlight whether the situation is better or worse than the market
"Country" insights available for all Deal alerts

Removal of alerts for Deal that have reached their end date

Calculation of revenue at risk for more alerts
Deals are key for the future of Publishers and their relationship to Demand. Adomik will support their growing needs with major new features in 2022… plus all these little things that make your daily work on deals more easily!